One of my favorite trips to make with my bike is a camping one. Often referred to as motocamping, heading out for an overnight (or multi-day adventure) trip on the open road with only the items you can carry on your bike is exhilarating. This minimalistic adventure can be had alone or with a group of fellow riders. It may seem a bit intermediating if you've never been camping before. However, cruising down an old country road, knowing you have everything you need for the night strapped to the back of your bike, will provide you with a sense of freedom that few other modes of transportation can.
What is motocamping?
Moto camping (or motorcycle camping) is simply riding to a campsite, near or far, with all the gear you need on your bike. Camping with a bike is a slightly different experience, primarily because you need to leave more of the luxuries behind at home and are limited by what you can carry with you.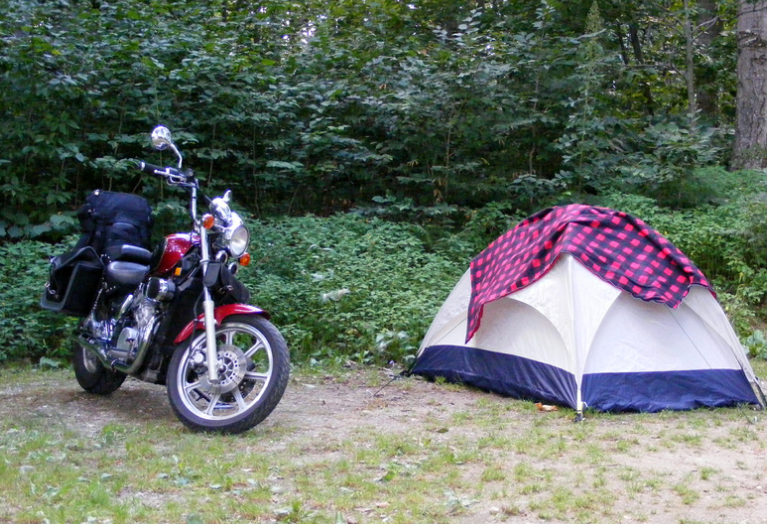 Camping with only your bike harnesses the freedom of being on two wheels and combines it with an opportunity to get closer to nature and harness the feeling of self-sufficiency. Motocamping is not difficult, even for those who are new to camping. You don't need a lot of expensive gear, a specialty ADV bike, or lots of money. With a few pieces of camping gear for your kit, a handful of straps, and a destination, you'll have everything you need to get started. Below, we'll cover some basics, but don't get too hung up on logistics. If it's your first time trying it, the best way to get started is just to do it.
Where can I go motocamping?
The great thing about taking a camping trip on your bike is the new places you'll get to visit. While you can typically camp in any traditional campground, motocamping provides you with an opportunity to explore new and more remote places. You can reserve a site at any state park, or if you want, you can head down a remote national forest road to make camp wherever you want.
If you live out west, the U.S. Bureau of Land Management has millions of acres to explore, and most of these lands are open to the public for recreation, including camping. In the RV world, this style of camping is called boondocking. However, on a motorcycle, you are less restricted in where you can go simply because you don't need as much space as a larger RV or even an SUV would require.
Living on the east coast, the opportunities for finding remote wilderness areas where I can take my bike are limited. Still, in NY, a handful of multi-use areas allow free camping, and some even require a short drive along a gravel road to get there. No matter where you live, you'll surely be able to find places like this.
However, heading to a state park is one of my go-to-styles for motorcycle camping. In NY, there are dozens of state parks in some of the most beautiful areas. While some park campgrounds are huge and cater to the city folks looking to get away for a weekend, others are more intimate and primitive. When planning a trip, I typically look for an area I want to visit, which may be somewhere I want to go hiking, near a cool local town, or has some fun riding options. When I decide on an area, I next look for nearby campgrounds with a focus on a state park or smaller campground.
My favorite campsite is one where I can set up camp right along a stream or lake and enjoy the quiet of nature. Sometimes I'll bring my fishing rod or take a swim to cool off after a hot July ride. For the most part, I like to find a site where I can have my bike at the campsite.
There is no right or wrong place to moto camp. Where you go and how remote you want your experience to be is all up to you. If you want to find more remote and free places to camp, download the FreeRoam App for your phone. While there will be seemingly endless options in western states, you'll find free camping sites no matter where you live.
When is the best time of year to moto camp?
While you can camp whenever you want, I find that the edge seasons are the most enjoyable. Early spring or fall is a great time for motocamping. The weather is typically cooler, the bike ride is more comfortable, and there are fewer crowds. However, a hot summer day also makes a great time for a camping trip, especially when you have an opportunity to cool off with a quick swim or sit outside by the fire on a cool summer night.
With motocamping, you need to factor in the ride in addition to the camping. While camping on a 50-degree day may not be too challenging, longer rides in the cold may require you to wear additional layers or even break out your cold weather riding gear. You'll also need additional gear like a heavier sleeping bag, a bigger tent, and warmer clothes. In the summer, the opposite can be true. You know your riding style the best, so try to plan your camping trip at a time when you'll enjoy both the ride and the destination.
Motocamping Gear
While there is no specific gear you need for motocamping vs. other types of camping, you will need to factor in weight and the size of what you bring. Typically, smaller and lighter are better. Below is a list of some of the gear you may want to carry. If you're taking a moto-camping trip for a couple of days, the following items should be sufficient.
Tent, Hammock, or Tarp
One of the first decisions with selecting gear for motocamping is to choose a shelter. You have three main options that work great. Let's take a look at each one:
Tent
The most obvious choice will be a tent. I use a tent for most of my trips primarily out of convenience. I have a smaller 2-person tent, which provides plenty of room; it's relatively lightweight and provides a complete barrier between me and the elements when camping.
Tents are the heaviest option and take up the most room. If space and weight are a concern, one way to reduce your gear load is to skip the tent and choose a lighter and smaller option. A One-person tent, or even a small bivy sack, works great for motorcycle trips.
Hammock
The next smallest shelter option is a hammock with a tarp. These pack up super small and only weigh a few pounds. They make excellent motorcycle camping shelters and are comfortable. The primary downside of a hammock is that you'll need a place to hang it while camping. If you know the location you'll be camping, and there are plenty of trees around, this won't be much of a concern. However, camping in an open area or campsite without trees probably won't work for you.
Tarp
The lightest and most versatile option is to use a shelter tarp. A tarp is typically just a large nylon sheet with places to attach guy lines to form a shelter. You can typically set up a tarp between trees, hiking poles, or for motorcycle camping, even along the bike's length.
The downside of a tarp is that it won't be quite as sealed as a tent, and make take some creativity to set it up. You'll also want to bring a ground tarp or sleeping pad to create a battier between you can the ground.
Other Gear:
Sleeping Bag:
A sleeping bag is a must-have for cooler nights. I own two bags- a summer and a winter sleeping bag, and I pack whatever one is best suited for my trip. However, a sleeping bag rated between 30-40 degrees is usually good for most trips. If it's going to get cooler, you can pack more layers for sleeping.
Sleeping Pad:
The older I get, the more important a sleeping pad is for me. While you can get an inexpensive foam pad, I prefer a small inflatable pad that packs up super small. I've been using the Klymit Static V Sleeping Pad for about a year, and it's extremely comfortable and lightweight. I find that my riding jacket makes a great pillow for a good night's rest.
Headlamp
Regardless of camping, a headlamp is a piece of gear you should have in your ride bag or tool kit. Unlike a flashlight, a headlamp allows for hands-free light to set up your tent or to fix a popped chain. You don't need an expensive one, but be sure to carry an extra set of batteries.
Cooking set
A simple cook set is essential if you plan to cook at the campsite. You can choose a camp stove or one for cooking over the fire. I usually bring a backpacking stove, which allows me to use it regardless of rain or location. I also have a small mess kit with a bowl, plate, and spork. I love the MSR Whisperlite backpacking stove- you can even use unleaded gasoline in it.
Food
Food can be as complicated or as simple as you want. You can always pack a few sandwiches or bring some ingredients to cook a meal over the fire on your camping stove. I usually opt to cook at the campsite and keep the menu simple. Dehydrated food is perfect for motocamping since it's light and packs down easily. However, sometimes I'll hit up a local grocery store by the campground and make some hot dogs or burritos over the fire pit. If you bring your own food, opt for dry or canned food, so you don't need to worry about keeping it cold.
Water
Make sure you pack enough potable water for cooking and staying hydrated during your trip. Most public campgrounds will have a place to fill up your water bottle. However, if you're camping in a remote area, it's a good idea to pack enough water or bring along a backpacking water filter so you can get water from a nearby stream.
Camp chair:
This is optional, but it's nice to bring a small packable camp chair– some good options are available on the market. While it may be considered a luxury item, it's nice to have a place to sit next to the fire or when cooking. If you have the space and the budget, consider picking one up.
GPS Unit:
GPS Units are great to have, especially if you're heading off the beaten path without any cell phone reception. A dedicated GPS unit will help you get to where your going and not get lost, which can be a stressful situation when you're low on gas traveling down dirt roads.
Basic Tool Kit:
While a should-have for any ride, a good tool kit is a must-have for motocamping excursions. Carry some basic tools like the common sockets for your bike, socket wrench, Allen wrench set, duct tape, chain tool, a good knife, and a tire repair kit- in case you get a flat tire.
Power Bank: Since you'll likely be camping without access to electricity, it's helpful to pack a power bank for charging your cell phone or other electronic devices. You can also purchase one that doubles as a jump start pack in case you accidentally leave your lights on at the campsite.
How do I pack for motocamping?
One of the most rewarding parts of motocamping is being self-sufficient, carrying everything you need on your bike. With car camping, you have the easy solution of just tossing in some extra great in your trunk, just in case. You need to be a little more thoughtful in what you bring for motorcycle camping.
A heavy bike makes for a less enjoyable ride. An overloaded bike can also be dangerous. When packing for a motocamping trip, in addition to identifying the gear you need, you'll also need to consider how you'll carry it on your bike.
The easiest want to carry gear on your bike is to invest in good-quality luggage like a tail bag, saddle bag, and tank bag. Waterproof bags are the most important thing you'll need if there's a possibility of rain. While you don't need to have tons of luggage like you may see on some ADV bikes, having a way to keep your gear organized and in place is important.
One of my favorite pieces of luggage for camping is a weatherproof dry bag that can be attached to the rear seat of the bike (or to a rear rack). An inexpensive bag that I love is the Osah Dry Pack. This 40 Liter soft bag can hold most of my gear, accessories, extra clothing, and straps to my rear seat. I also have a nice North Face waterproof duffel bag that works great.
While many bags will come with straps, I highly recommend you pick up a couple of rock straps, which provide a bombproof tie-down system for a bike and are super easy to adjust. Bungee cords will also work well.
If you'll be motocamping regularly, a set of throw-over saddlebags is a nice addition to offset the bulkiness of a single rear bag. Having multiple places to store your gear allows you to organize it better and quickly access the items you need when you need them. My favorite motocamping setup is a large duffle combined with saddle bags. This is usually enough room for all my gear and keeps everything organized.
When loading your bike with the gear, it's important that you don't overload it and try to keep everything balanced. Keep heavier loads on the bike's center to avoid uneven weight, which can throw off your balance when making turns. Your lighter materials should be packed on the sides of a bag that hang over the edges of the bike. I also try to pack the saddlebags evenly and avoid any heavy items.
When distributing weight, I think of it as riding with a passenger. If you had someone sitting on the passenger part of the seat, their weight would naturally be distributed with the heavier part of their body over the bike frame.
Conclusion
Motocamping is a great way to head off the main roads and find a little solitude with just you and your bike (or a couple of friends). Whether you're heading out for a couple of days or a week-long excursion, with a little planning, you'll be able to carry everything you need with you on the back of your motorcycle. Your first night on the road with be a bit of an adventure, but as you get past the first trip, you gradually learn about what you need and don't need. One of the best parts of motocamping is being self-sufficient and knowing that you have everything you need to get by strapped to your bike.
The last thing I'll mention is just to have fun. Motocamping shouldn't be stressful, and if it is, you're doing something wrong. Enjoy yourself and be safe. It's a great way to experience the open road and harness a feeling of freedom that is unlike any other form of camping.