So you're gearing up for that epic ride and want to capture it on your GoPro action camera. Maybe you're getting into moto vlogging and need a new setup for mounting your camera. Have no fear- we compiled a list of the best mount options for your GoPro and other conventional action cameras.
When choosing a camera mount for riding, you have a few options. Of course, the best option will ultimately depend on your filming needs, but other considerations include mount locations, security, bulkiness, and ease of use. The other big consideration if choosing a helmet mount will be your helmet type.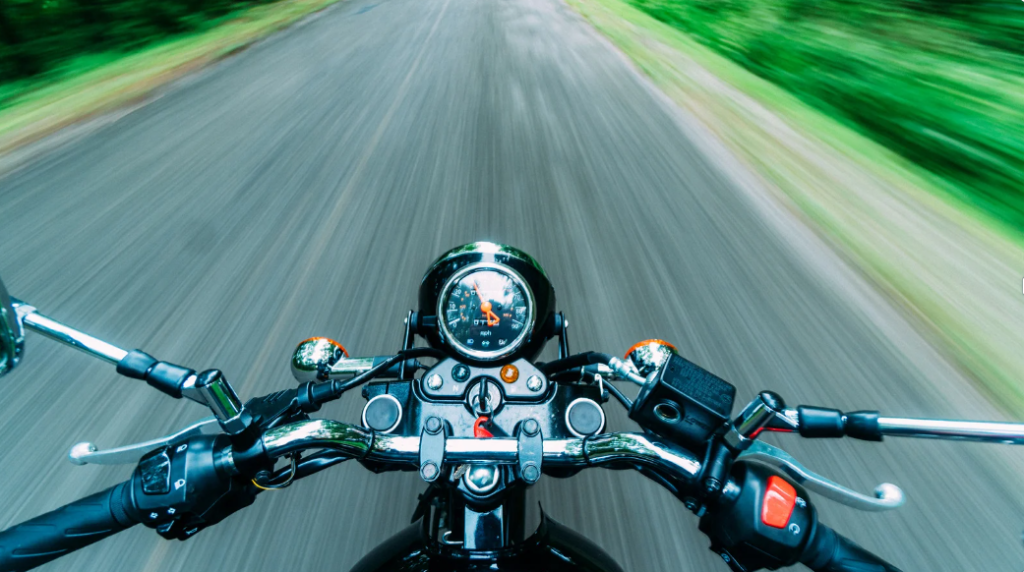 If you are capturing video footage from just one camera, the best option will likely be a helmet-mounted camera. I like helmet mounts because they provide the best field of view to capture your ride. Bike-mounted cameras provide a great view of the road when front-facing or the rider if you flip it around. However, a single camera set in this position will give a limited perspective of the ride. Looking at only the road doesn't let those viewing the video enjoy the experience of riding a bike.
If you're facing it back at yourself, the video will get boring just watching you, not the road. A bike-mounted camera makes a great secondary camera mounting option, allowing you to edit the video with a mix of different angled videos. However, if you have just one GoPro camera (or another action camera), a front-facing helmet mount should be your first choice.
Helmet Mounting Options
When choosing a camera mount, you'll need to consider where you plan to mount it on your helmet. Below are the three most common options for helmet mount setups. These mounts will come in two styles: Adhesive mounts or a chin strap mount.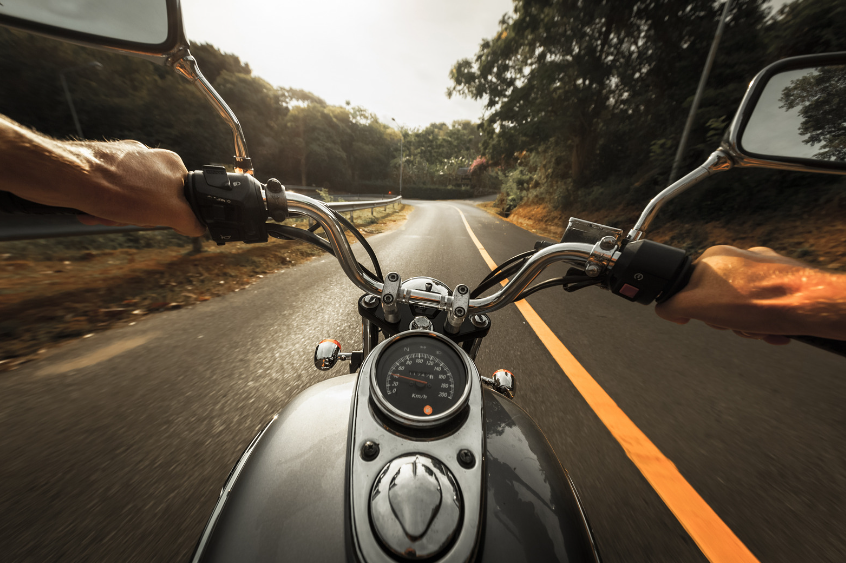 Chin Mount
My favorite mounting location, which I use most of the time, is a chin mount position for my GoPro camera. A chin mount will attach the camera right below the visor of a full-face helmet or modular helmet. It places the camera's lens right in your bike's center and gives the best perspective of what the rider is seeing. A chin mount is usually the best place to position the camera if you want the best footage from a single camera.
A great thing about a chin mount is that it captures a balanced video of your instrument panel, hands, and the open road. In addition, some great low-profile mounting options keep the camera close to the helmet and, when removed, won't be very noticeable.
A GoPro helmet front chin mount is perfect for full-face and modular helmets. However, if you have an open-faced helmet or dome-style one, this won't be an option for you. Chin mounts are also great for high speeds since they're usually held closer to the helmet and are less impacted by wind.
Side Mount
Another common helmet mounting location for a conventional action camera is on the side of your helmet. A side mount setup attaches to the side of the helmet. While this is a good option if you can't install a chin mount, it does provide a slightly offset view of the road. Some folks may prefer this perspectDepending on your camera type, ave.
A side mount setup must also extend further away from the helmet. For example, even though a GoPro camera is small, it will be a little bulkier when mounted on the side vs. a chin mount. This issue is because the camera needs to sit horizontal (if you want that perspective), pushing it further away from the side of the helmet.
However, some side mounts have an extended arm or swivel mount, which wraps around to the front of the face for a better perspective, similar to a chin mount. While these work fine, they're a little bulkier than other options. However, this setup is usually the best way to attach a GoPro mount if you have an open-face helmet.
Top Mount
Another popular mounting option is on the top of your helmet. A top mount setup provides a great video perspective as it sits high and center of the rider. In addition, you can get a nice perspective of the front of the bike and the road by slightly angling the camera down. The great thing about this setup is its versatility- it should work well on just about any helmet.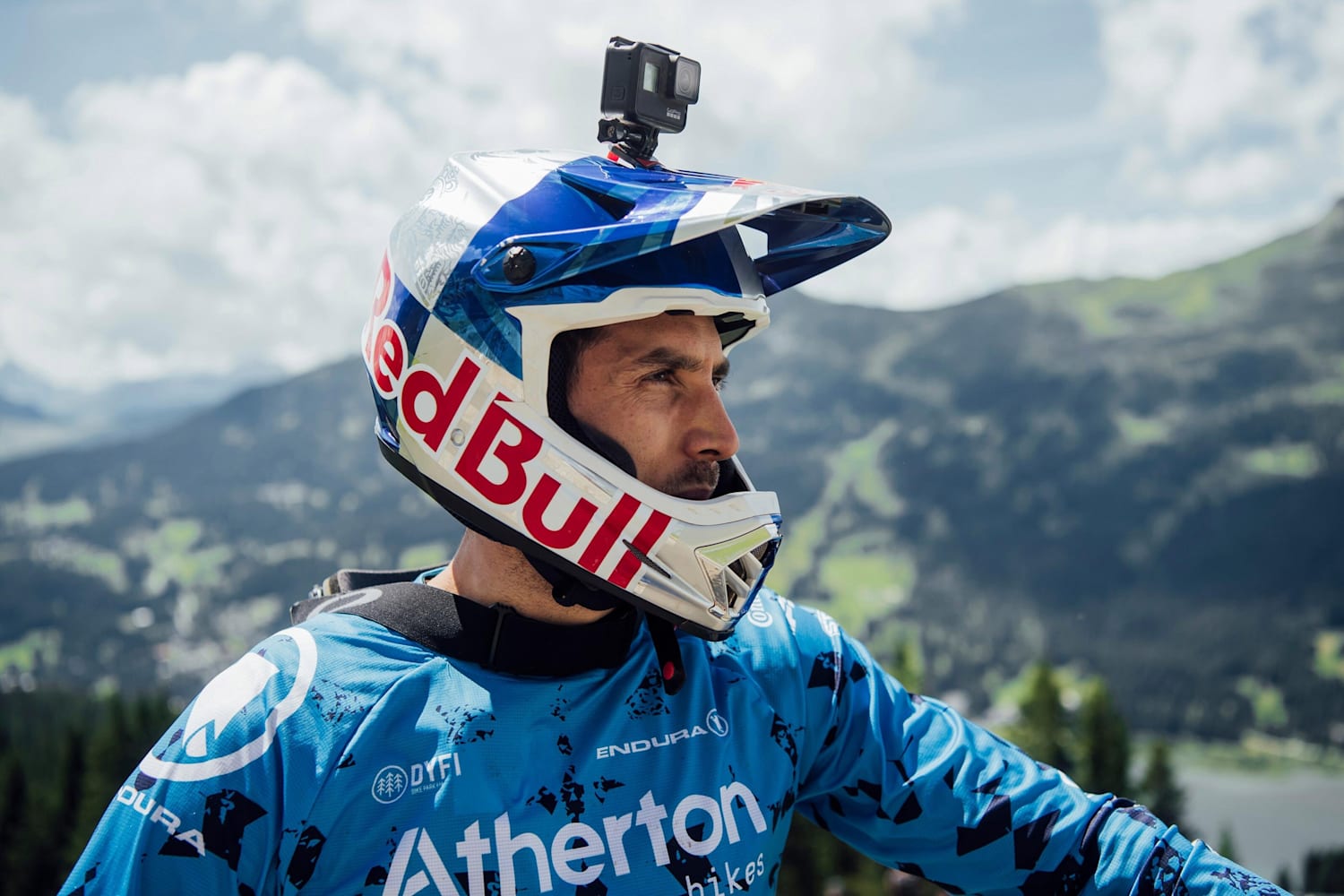 The downside of a top mount is the aesthetics. I think it looks a little strange on the helmet, especially if you're capturing video from multiple cameras with one facing back on the rider. It's also harder to adjust while riding and will be subjected to more wind, pushing it out of frame.
Benefits of a Helmet Mount
In addition to capturing a good field of view, framing the video on the front of the bike, instruments, and of course, the road, a helmet mount also has several other benefits. My favorite one is that it captures video from the rider's point of view. If you turn your head, look up or down, the camera captures it. It can take a static video and make it a little more interesting for folks watching it. A front mount will also be easier to frame, ensuring you get great footage from your camera. With just the feel of your hand, you can usually move it up and down to the angle of your choice.
A Helmet Mount also keeps the camera a little steadier, preventing the vibrations of the bike frame from impacting the video. The bike's rider acts as a shock absorber and provides smoother video. However, with that said, it's highly suggested to use in-camera stabilization features, or it will still be jittery.
Other options for mounting a GoPro camera, not on the helmet
While I like the helmet mount the best, there are some other good options for mounting your camera. These will give you a different field of view in the video, but it may be a look you're aiming for.
Chest Mounts: A chest-mounted camera is similar to a helmet mount, but it will capture less of the road and more of the bike in the video. The downside of the chest mount is that you must put it on each time you use it. On the other hand, it has some advantages of a helmet camera, specifically allowing you to get some video when you're off the bike, without a helmet, and walking around. Also, if you live in a state that doesn't require helmets and choose not to wear one, this may be the best option for you.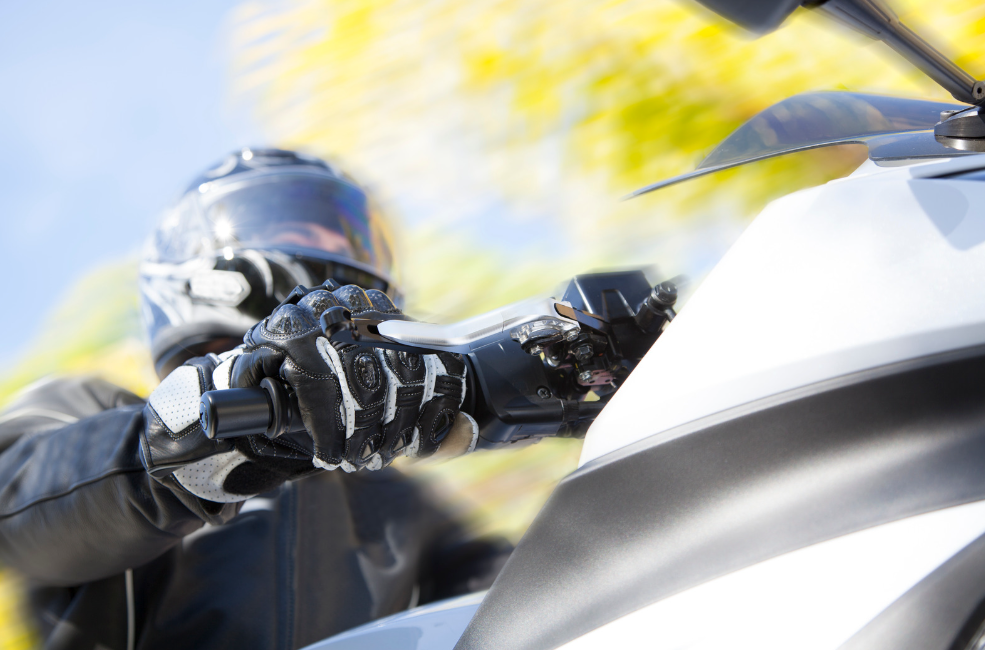 Bike Mounts: Usually mounted to the handlebars, a bike mount will keep the camera off your body and allow you to capture some great video of the road or, if you flip it around, of you riding. Using a bike mount, you'll want to ensure that your camera has video stabilization, like Hypersmooth. The camper will react to the vibration and bumps of the bike and, without stabilization, will make it almost unwatchable. Luckily, modern cameras are very good at handling this.
Setting up your GoPro for moto video
Most moto videos will end up on YouTube or social media, which uses a horizontal video framing. While you could mount your GoPro vertically, you'll lose out on the wide angle of view provided by GoPro cameras. Unless you plan to share your video on Instagram or tik tok , you'll get the best video from a horizontal mounting setup.
Almost all newer action cameras will have in-camera video stabilization. If your camera doesn't, you'll need to stabilize it in post-production or deal with shaky video and poor image quality. For newer GoPro models, a best practice is to enable Hypersmooth. Previous models, before the Hero 7, don't have this feature. However. All newer GoPro hero series models will, and they do an amazing job creating a smooth video. Optical image stabilization keeps improving with each new camera due to the better design and larger sensor.
Another feature that I use on my GoPro 10 is horizon lock. It keeps the horizon in the middle of the frame of the video and, when combined with Hypersmooth, makes a super solid video when riding a bike. This feature helps to reduce distracting video when you move your head up and down and allows you to concentrate on the ride. However, these features can impact battery life and require more storage space, so ensure you have an extra battery and a larger SD card for longer rides.
Rain and Weather
The best thing about an action camera is its durability. When riding in the rain and bad weather, newer GoPro models will handle it just fine. Older models required a waterproof case, which impacted video and made them bulkier. However, my Hero 10 GoPro is small, light, and waterproof. The only downside of the rain is getting water drops on the lens. I usually wipe it off and edit out video clips that are unusable.
Best GoPro Helmet Mounts
When shopping for a helmet mount, you'll see a lot of options, especially if looking on Amazon. You'll see options ranging from stick-on, strap-on, and clip-on mounts. You'll also see a lot of varying reviews and price points. Below, we'll help you sort through the notice and recommend the best mounts for your motorcycle helmet.
Also, remember that these options will work for other action cameras with the right adapter. While I think the GoPro is the best action camera for motorcycling, new technologies are always coming to the market. Two of them are the DJI Osmo action camera and Insta360, which provide other great features not available in a GoPro camera.
Best Strap-on Mount
What I Like:
f you're looking for a universal chin mount that you can swap between helmets, the Suewo Motorcycle Chion Strap, available on Amazon, is a good option and a great value. The Suewo strap wraps through the face opening part of your helmet and buckles from the inside. It has a low profile and will fit almost any full-face or modular helmet. It has a rubberized backing to protect the frame of the helmet and an easy buckle to keep it in place.
Another great thing about this mount is that it doesn't matter what curves you have on the chin section of your helmet. While some regular adhesive mounts from GoPro require flat surfaces, since this straps onto the helmet, it doesn't matter how angled your chin is.
What I don't like:
My least favorite aspect of the Suewo mount is the strap running through the face opening. While it makes it the most universal mount on the list, if you have a face shield, it won't be able to close 100% because of the straps. In addition, this small opening can create added wind noise.
Depending on the size of your air opening, The mount can also block some air flow openings on your helmet, depending on the size. However, it's relatively inexpensive, and these minor inconveniences may make it a good choice for you. In addition, it has over 1,000 4.5-star reviews on Amazon- It's clear that a lot of people really like it.
---
Best Side Mount
What I Like: One of the biggest problems with finding a chin mount for your camera is attaching it to the curvy part of the chin section. Also, if you have an open-face helmet, a chin mount may not seem like a possibility. However, the AxPower mount solves this problem by attaching the smooth area on the side of the helmet and extending around the front of the helmet so that you can position it at chin level. This mount can also be attached to the top of the helmet if you want some higher angled shots or if you have a dome helmet.
This mount uses a strong adhesive to attach to the helmet and has an articulating arm that allows you to move the camera and frame the video. It's also relatively inexpensive and will work well on most helmets, regardless of whether they have a chin cover. The arm uses a J-hook connector with four pivot points, allowing you to position the camera just right. It's a great option for open-face helmets.
What I Don't Like:
My biggest complaint about this setup is probably its bulkiness. While it's not a big problem, you now have some extra plastic pieces attached to your helmet. Additionally, you will need to regularly check the screws on the joints to ensure they're solid. If they loosen up, your camera can sag a bit, which you may not notice until you finish your ride.
---
Best Clamp-on Mount
What I Like:
Dango has a really cool concept with their clip-on mount. While it's only usable for full-face or modular helmets, it's the least intrusive mount as you can easily take it on and off between rides. The mount is essentially a large but strong clip that you clamp onto the frame of the helmet from the bottom of the chin frame. It uses a super strong spring to ensure you have a tight and secure fit. The soft rubber material will also prevent scratches or marring your expensive helmet. The nice thing about this mount is that when it's off the helmet, you can clamp it to other things to frame your video.
This mount is universal and allows you to switch between helmets quickly and easily. It also only has one pivot point, so it will do a good job of staying in place and keeping your video in the frame. It's also a very durable product.
What I Don't Like:
While the clip provides many benefits, it's also a little bulky since it sticks down below the helmet, in front of the top of your neck. However, you'll likely never notice this while riding. The other downside is the price. It's also the most expensive of the options.
---
Best Chin Mount (#1 Choice)
What I Like:
If you're looking for a chin mount and have a full face or modular helmet, then this is one of the best mounting options available. The Chinmount GoPro mount is what I use. It uses an adhesive mount specifically designed for your specific helmet model. The company currently makes mounts for the most popular helmets (over 200 models). This feature eliminates the biggest issue of an adhesive mount, which is dealing with the curves of the chin section. Since the mount is designed for your helmet, you'll have a perfect fit.
The mounting kit also includes a J-hook and a safety leash, protecting your expensive camera. It's also super low profile, so it will keep the camera close to the helmet and the camera angle where you want it. It's hands down the best choice for a chin-mounted camera. The mount uses a super strong and high-quality adhesive that will stay put while you're cruising 80 MPH down the thruway.
What I Don't Like:
The biggest downside to this mount is that you need to have a full face or modular helmet. If you do, then you won't be disappointed. The other downside is that it's not available for every helmet. If you have a less popular helmet, you may be able to find one that fits, but you won't know until you try it. However, the company is super responsive to its customers, so it's worth giving them a call to get some guidance. The other downside is that if you regular swap helmets, you'll need to purchase an additional base.
---